Crowdfunding to help continue my project!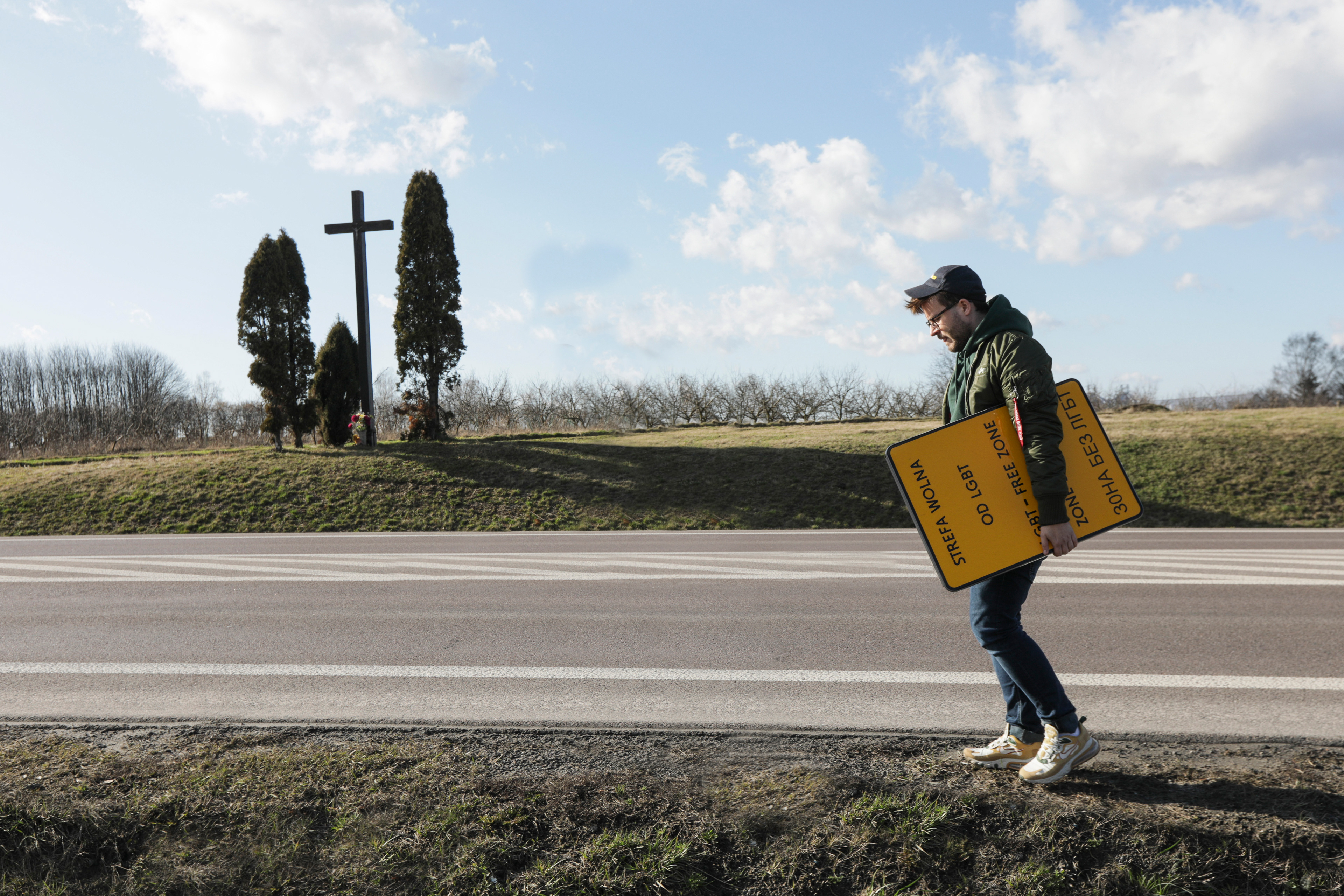 Since many of you are asking how to support my art project, I decided to give you this opportunity. So far, I took pictures of several municipalities and financed it from my own resources. I decided to run crowdfunding to help continue my project!
You can donate here: pomagam.pl/en/strefy
Polish Ambassador in Berlin criticizes 
my art project
Wednesday, 12th March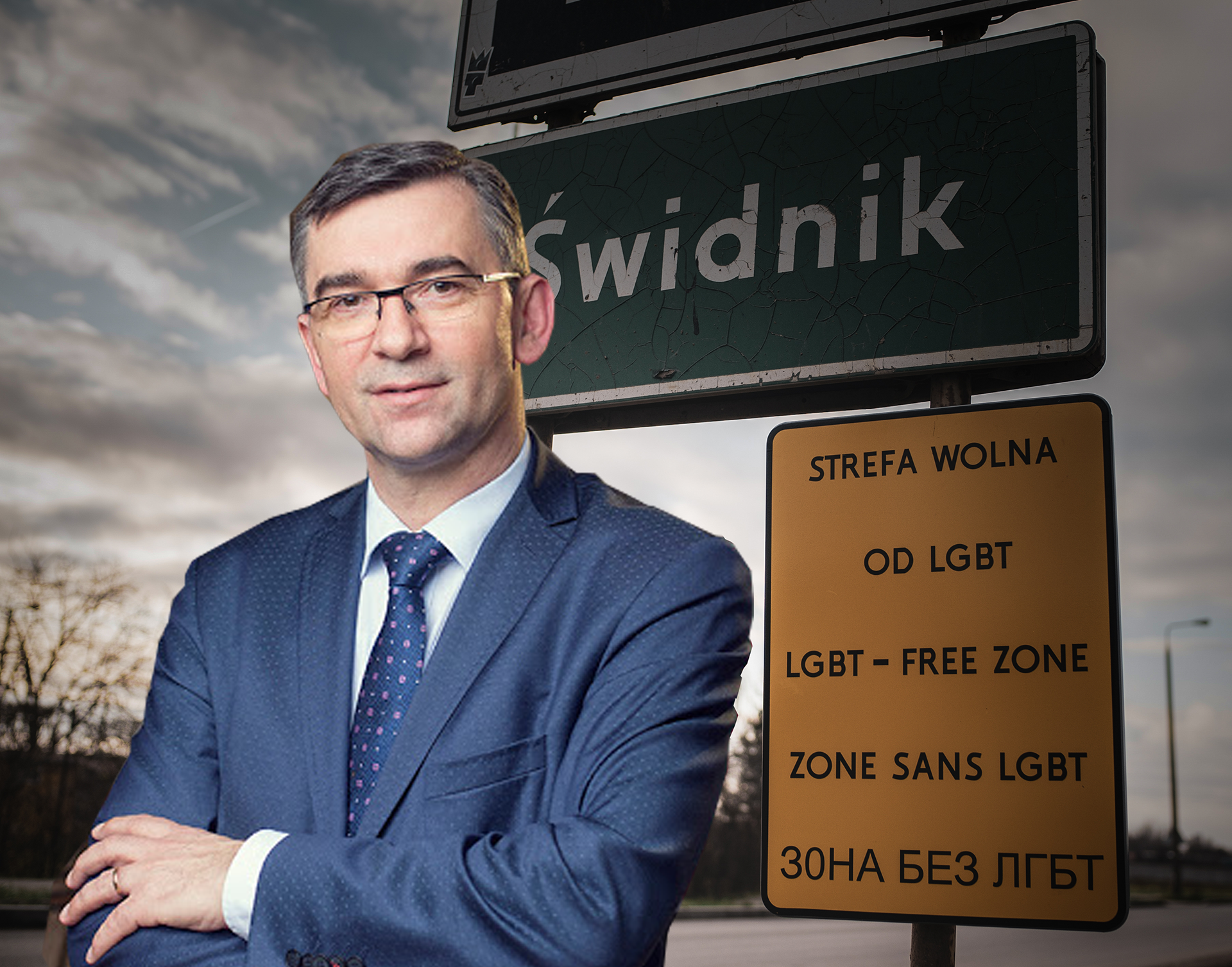 Polish Ambassador to Germany Andrzej Przyłębski about my action: 
"The marking of cities with "LGBT-free zones"; signs; even if it is an expression of artistic provocation or protest, it must be considered illegal and therefore invalid. Poland is a constitutional state and according to the article. 32 of the Polish Constitution, everyone in Poland is equal before the law, which means that no one can be persecuted for political, social or other reasons!"
"On the other hand, it should be stressed that the majority of Polish society is Catholic, which means that the LGBT ideology is unacceptable to some of these believers. It is in this sense that decisions taken by some municipalities must be discussed as being contrary to LGBT ideology. It contradicts an ideology that is sometimes brutally enforced rather than people who enjoy protection as individuals."
"This is also guaranteed by the Christian commandment to love your neighbor. Such decisions are, of course, only symbolic and do not create any "LGBT-free zones". "
Mr. Ambassador, my action is not "illegal and therefore invalid. I'm not under investigation and there's no court verdict in my case. Your judgments in this case are private and have no legal basis and hurt ma a lot. Declarations against LGBT "ideologies" contain wordings that undermine individual freedoms and rights, especially the constitutional prohibition of discrimination. The detailed analysis was provided by dr hab. Dawid Szesciło on behalf of Ombudsman Adam Bodnar. Using this power, the Ombudsman has filed complaints to five provincial administrative courts. However, I understand that the knowledge of the Constitution is not a strength of either you or your wife, who was elected to the position of the President of Constitutional Tribunal in violation of the Constitution.
Protests in Norway and Germany
Sunday, 8th March
​​​​​​​
Berlin, Oslo — Around 200 people gathered at Berlin to protest against the so-called "LGBT free zones"; in Poland. The participants of Saturday's manifestation had slogans: "Shame on Poland". In Oslo, the capital of Norway, a solidarity protest with LGBT people took place under the Polish embassy. Participants and participants in the demonstration brought rainbow flags and banners with them, which said "Stop the attacks on LGBT in Poland". Several hundred people have declared their participation in social media.
French Town Uncouples With Its Polish Twin Over LGBT Rights
Monday, 17th February
WARSAW, Poland — A Polish mayor on Monday deplored the decision by a sister town in France to suspend 25-year official ties with her town because it declared itself an area "free of LGBT ideology." The mayor of the south-eastern town of Tuchow, Magdalena Marszalek, blamed the rare decision by the French community it had been twinned with, Saint-Jean-de-Braye, on campaigning ahead of local elections there. She expressed regret that severing ties will cut friendly relations among residents, as Tuchow will no longer be able to sponsor visits by people from Saint-Jean-de-Braye.
Die Zeit about my project!
Thursday, 13th February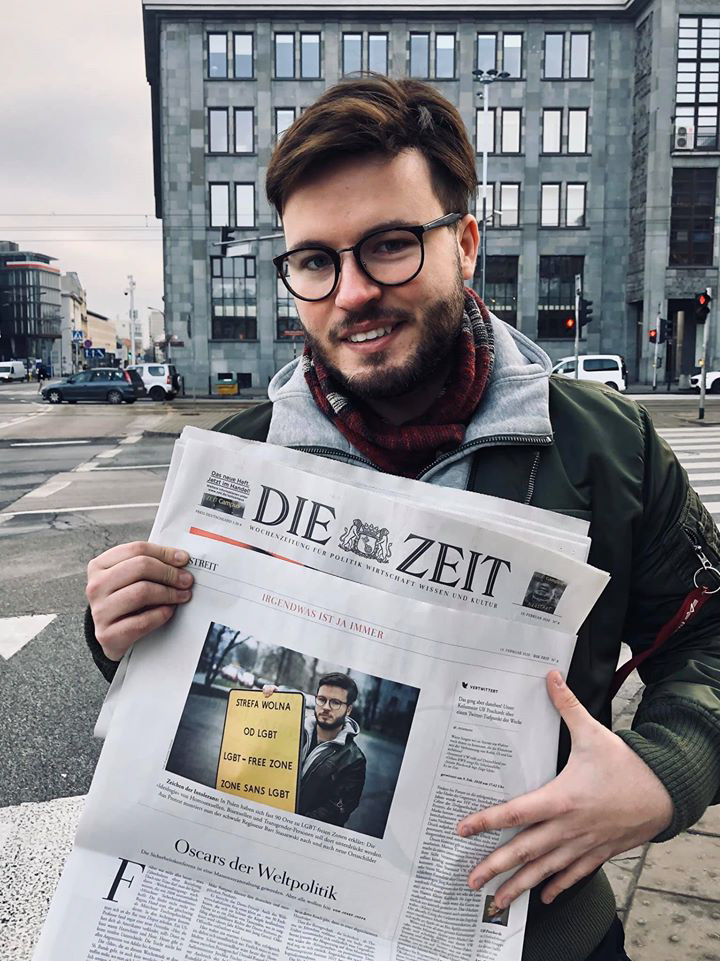 EU Commissioner for Equality speak laud on LGBT-free zones in PL
Tuesday, 4th February
According to EU Observer at the European Parliament in Brussels, Dalli said the commission would make advancing LGBTI rights a priority for the next five years, noting that six EU states provide no recognition for same sex couples. "We cannot allow the distribution of LGBTI free zone stickers, or the adoption of anti-LGBTI resolutions and not feel responsible for the next phase where physical attacks that take place, even if they are then carried out by other people," said EU commissioner for equality, Helena Dalli.
14 French associations are demanding Emmanuel Macron to rise voice on
homophobia in Poland
Tuesday, 4th February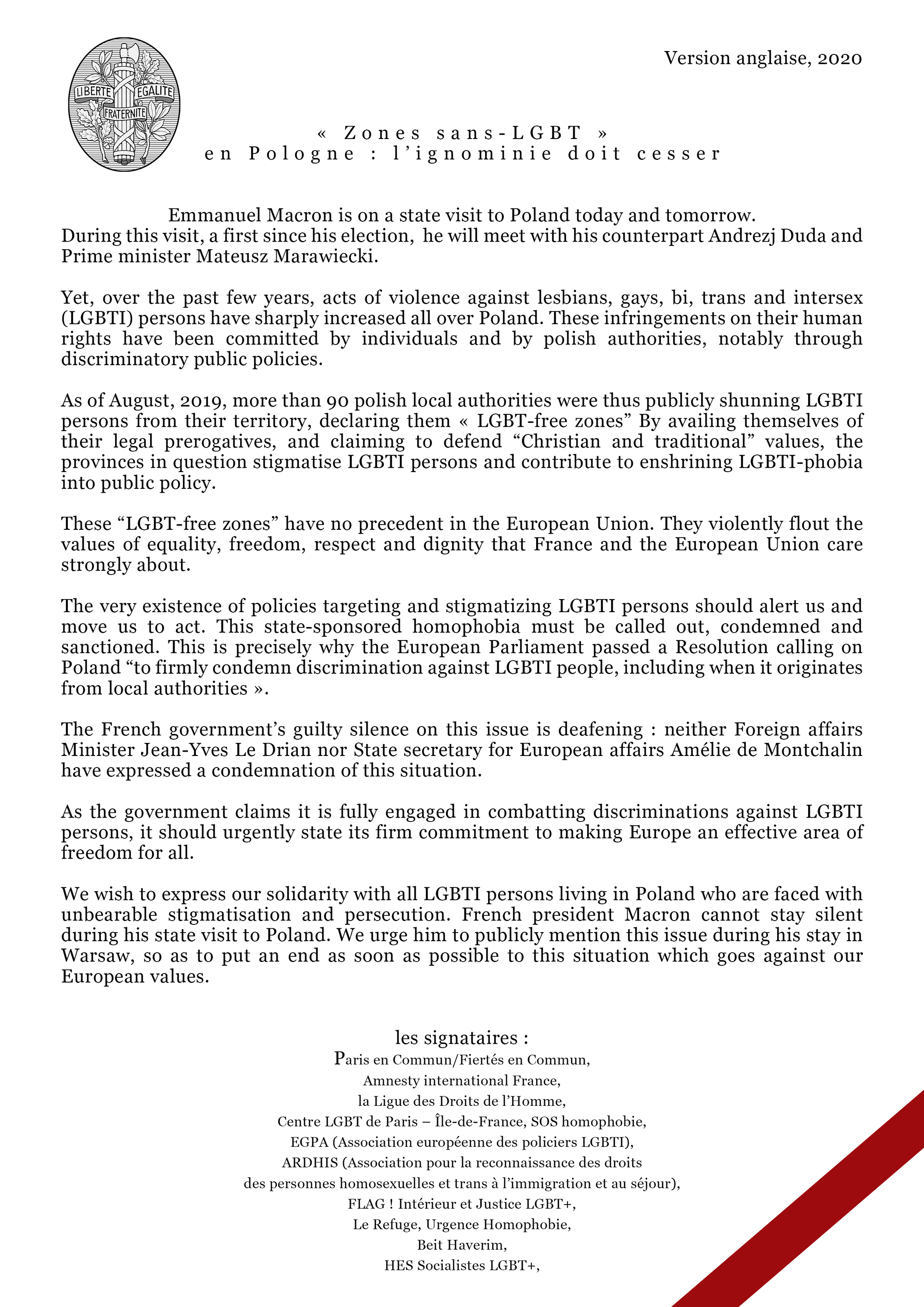 According to tetu.com and IDH-France, 14 biggest human-rights association demand Emmanuel Macron to rise voice on homophobia in Poland during meeting with Andrzej Duda (President of Poland). Among signatures are Amnesty International
Polish right-wing NGO support lawsuit against me
Monday, 3rd February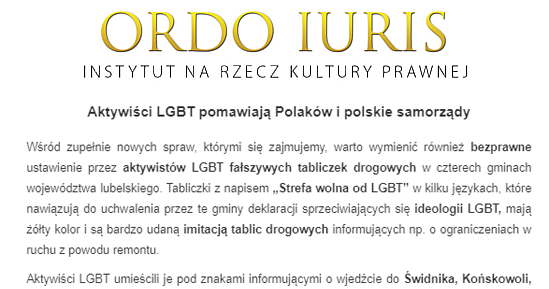 ​​​​Polish-right wing Polish organization "Ordo Iuris" with a strong connections to 'Agenda Europe', a pan-European, Christian-extremist network in their e-mail newsletter announced that they will support all county/provience politicians that have a will to make lawsuit against me for defamation of the county/provience reputation.
Right-wing party members want criminal charges for me


Tuesday, 29th January
Politicians Jan Strzeżek and Jakub Drożdż, from the "Agreement party"  whose leader is Jaroslaw Gowin (Minister of Science and Higher Education in the current Polish Government headed by Mateusz Morawiecki) have alleged that I have committed a crime.
"This action spreads lies abroad about Poland"
Strzeżek went on to say "Yesterday, Guy Verhofstadt, leader of the ALDE (Alliance of Liberal and Democrats for Europe) Group, shared these photos and started a discussion about the treatment of LGBT people in Poland."
Drożdż added "we are dealing with organized disinformation by LGBT movements".
As a result, the Public Prosecutor's Office has received notification of an alleged offence by me. Now Prosecutor will decide if he will run investigation.
I have received no notification so far and I will continue my action.
In my opinion I have done nothing wrong but, if they wish to pursue criminal charges, then I will treat it as the type of  civil disobedience necessary to highlight the issue of homophobia and LGBT-free zones in Poland.