It just takes the cost of one coffee per month to support my activism. Help me act!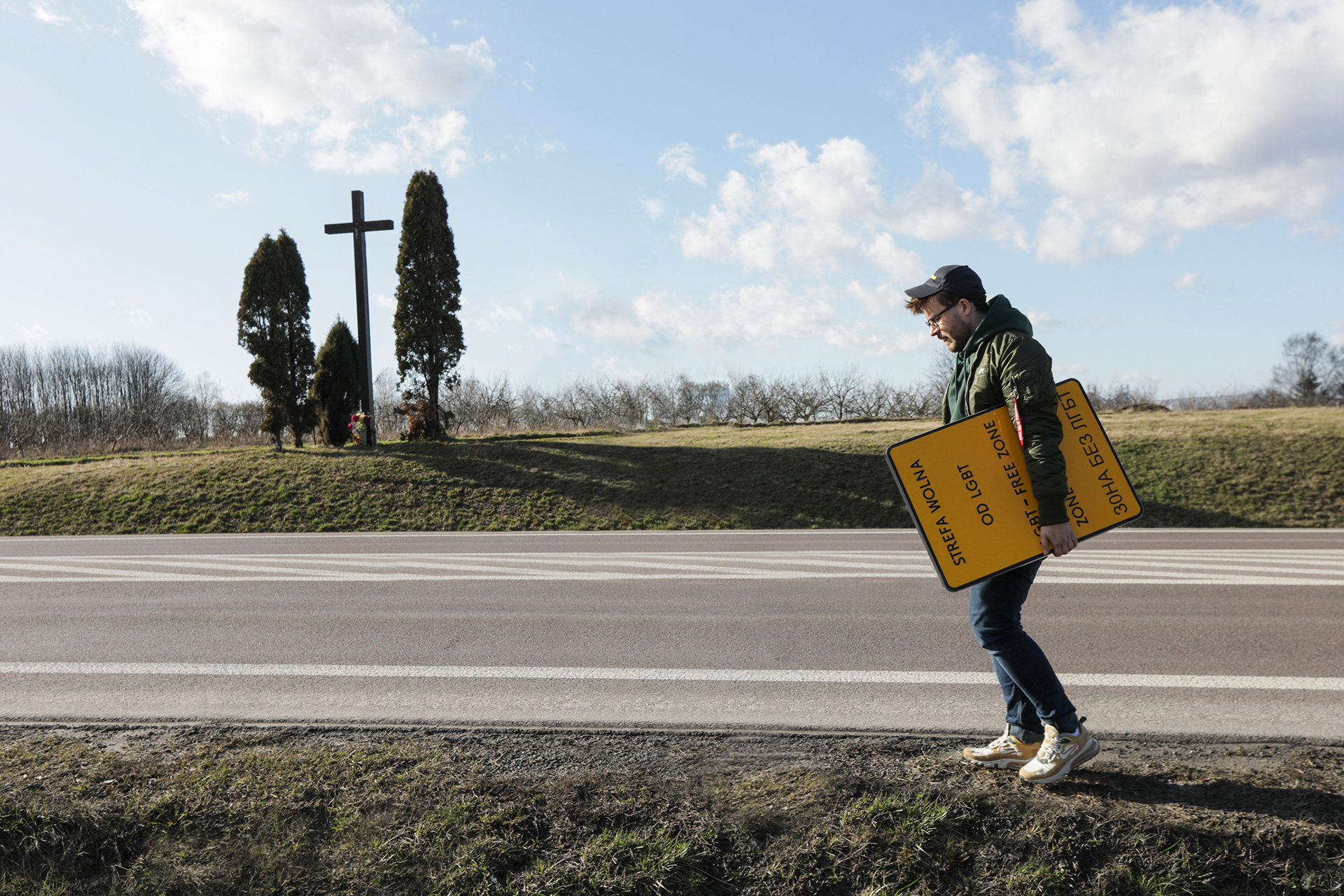 Interview with author of project, Bart Staszewski, use freely
What is an LGBT Free zone?
It is a city/province/county that ad
opted resolutions declaring themselves free of the "LGBT ideology" provided by Law and Justice party politicians. 
What is an LGBT-Free declaration?
Anti-LGBT resolutions are legal documents adopted by local governments at city, commune, county or provincial level during city council sessions by voting. They look like any other legal document adopted by local governments. Someone who is not familiar with the law may think that it really has some legal power - fortunately not.

Recently some of those declarations

 been rejected by the court that called them against Polish Constitution.
The wave started after the Warsaw City Council in January 2019 signed the LGBT declaration. Among it's most important provisions are: the creation of an intervention centre which will be a shelter for non-heterosexual people thrown out of their homes or afraid for their lives in the place of residence, the creation of a 24-hour hotline for LGBT+ people experiencing hate crimes, where psychological and legal assistance will be provided or the prevention of hate speech and verbal and physical violence to effectively protect LGBT+ people.
On 27 March 2019 in Swidnik city, right-wing councillors were among the first in the country to adopt the position of "Local government free from LGBT ideology". It was idea that come from the Law and Justice party
. They don't hide it. 
Why they declare as LGBT-free zones?
Councillors often answer that the adopted the resolutions did not support social exclusion, discrimination, harassment of LGBT representatives at any point, but only aimed at expressing opposition and disapproval of attempts to promote an "ideology" based on LGBT affirmation. One from Swidnik says: 
Resolutions will be an advertisement of the beauty of the Polish family, in which the beauty of true human love is passed on to young people. In the way it is commonly accepted here," say Brzózka. - In our declaration we speak both about the right to raise children in accordance with the parents' beliefs and about the protection of students. We also announce that we will protect teachers and entrepreneurs from imposing unprofessional criteria on them in terms of their work. These are the criteria proposed by radical circles that promote "LGBT ideology".
- I think that Poland will be an LGBT-free region," said Elzbieta Kruk, Law and Justice member of EU parlament they after the Swidnik declared as free from LGBT ideology. The MEP and member of the National Media Council claimed that the resolutions introduced in Swidnik is supposed to lead to "the absence of this ideology.
What legal effect has this declaration?
It's symbolic act so it's has no legal power and also may be illegal. The Constitution states that everyone is equal under the law and is a guarantee to equal treatment by public authorities. No one may be discriminated against in political, social or economic life for any reason.
Provincial governors are obliged to act when local governments take acts that violate the law, however, in the case of anti-LGBT resolutions, provincial governors remain silent. Polish law does not give the residents the right to appeal independently against the resolutions adopted by the local government to administrative courts. Therefore Polish ombudsman made a move and went with them to the court -now and we got decision in some cases that called anti-LGBT declaration 
finding that they violate constitution.
What effect has this declaration on population?
In my opinion it is freezing effects and this declaration are meant to intimidate LGBT-people who live in this areas. By this declaration local politicians underline that there is no acceptance for LGBT events or initiative. That they will ban them if possible and Professionals working in schools like teachers feel intimidated to openly support LGBT-pupils or to provide space for anti-discrimination events. Local authorities oppose to provide anti-discrimination workshops. People don't know how this "new law works". I got on my Facebook page messages from teachers asking if the declaration prohibits them from teaching about equality or LGBT-topics. 
So the declaration contributes to homophobia?
I think that this declaration is the total abnegation of EU heritage and what I understand as a human rights. It's disgusting on all levels - human and political. And  the youngest residents are those who are suffering

mostly

. They are most vulnerable for homophobia. According to the research conducted by the Campaign Against Homophobia, Trans-Fusion and Lambda Warsaw, nearly 70 percent of LGBT teenagers have suicidal thoughts, and half of the symptoms of depression (according to data from the Trans-Fusion and Lambda Warsaw Campaign): Social situation of LGBTA people. Report for the years 2015-2016 edited by Magdalena Swider and dr Mikolaj Winiweski). For comparison, the percentage of people struggling with depression for the general public is only 5 percent. This means that the scale of the problem of suicide and depression among lesbians, gays, bisexuals and transgender people is stunning. You can easily imagine how empowered feels bullies knowing that politicians in the city are supporting you. 
 In December 2019, the EU Parliament, in it's resolution against Poland, strongly condemned ''LGBTI-free zones'' in Poland and clearly stated that Poland should revoke resolutions attacking LGBTI rights.
In June 2020, the EU Commission, in the l

etter to province Marschalls  underline their conern about so called "LGBT-free zone" acts: 
The recent adoption by the regional and local authorities, of declarations, statements or resolutions branding LGBTI community postulates as "an ideology" and declaring their territories LGBT-unwelcome, put into question the capacity of these regional managing authorities to ensure compliance with the horizontal principle of non-discrimination in the implementation of ESIF programmes.
You can find each zone on site "Atlas of Hate"
"Atlas of hate" is an interactive map of Poland made by Jakub Gawron, Pawel Preneta and Paulina Pajak. On this map, regions in which works on adopting the "anti-LGBT declaration" have been rejected, accepted or are still underway have been pinned. 
How do such LGBT-free declarations look like? 
The declaration of the City Regional Assembly regarding
 the introduction of the LGBT ideology to local government communities
The declaration of the City Regional Assembly regarding 
the introduction of the LGBT ideology to local government communities.
The City Regional Assembly express their opposition against the actions intended to promote the ideology of LGBT movements that have been occurring in the public sphere. The aims of this ideology violate the basic rights and liberties guaranteed in acts of international law, contest the values protected by the Polish Constitution, as well as interfere in the autonomy of religious communities.
Recent actions undertaken by representatives of the national as well as local political scene are aimed at causing fundamental changes in social life. These actions are intended to annihilate the values shaped by the Catholic Church, such as: pursuit of the truth, concern for moral development of the young generation, concern over the institution of family and a school based on Christian principles. 
Therefore, having a person's and a family's best interest in mind, we declare that: 
- We shall defend our schools and our families against the spread of ideology which stands in opposition to Christian values; 
- We shall not allow to introduce the elements of sexual education based on WHO standards into the Polish system of education;
- We shall not allow for officers of political correctness (the so-called 'lighthouse keepers) to be installed in schools as it stands in conflict with the law and the good of our children;
- We shall not allow exerting administrative pressure to comply with political correctness (rightly referred to as homopropaganda) in selected professions (teachers, scientists, businessmen, lawyers).